PROFESSIONAL TILE & GROUT FLOOR CLEANING AND RESTORATION IN BIRMINGHAM, WEST MIDLANDS.
Welcome to Adchem your local professional tile and grout floor-cleaning and restoration specialists in Birmingham and the West Midlands.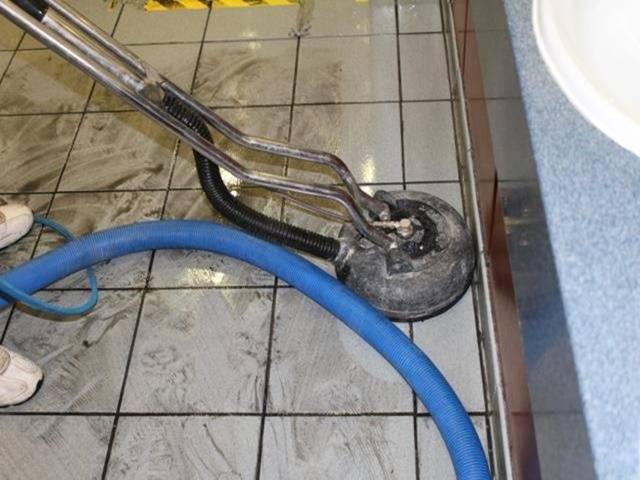 When it comes to tile and grout floor cleaning we have taken the time and invested in the training and equipment to ensure we deliver a first class, superior floor tile and grout cleaning job to all the residential and commercial businesses throughout Birmingham and the West Midlands. We know how expensive floor tiles are to buy and be installed by a professional expert tiler, so the last thing we want to do is damage your floor tiles.
Our process is highly effective for customers that have tile and grout flooring in their Kitchen, Bathroom, en-suite, Utility, Hallway entrances, Porches, Conservatories. Also in business premises in Birmingham where tile and grout flooring has become dirty. The reason for this is that the grout is porous and thus has tiny cavities that gradually fill with dirt. Mopping or steam cleaning will not remove the dirt as it glides over the surface of the tiles, so gradually the whole floor looks old and unclean even when you may have used bleach.
So we can clean your tile and grout flooring and restore it looking like the day it was installed.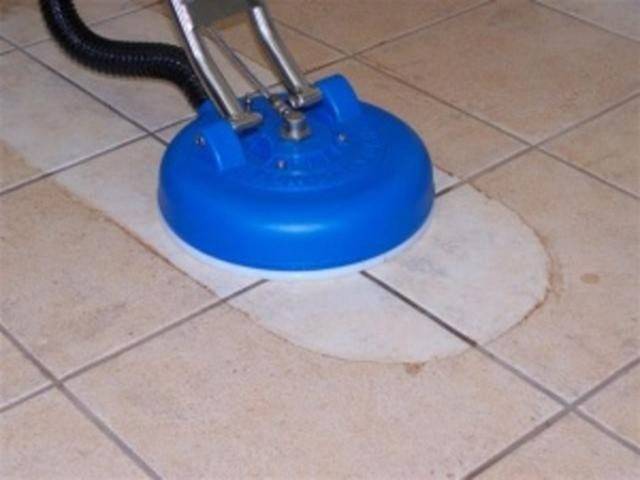 Our Unique Multi-Step Floor Tile and Grout Cleaning and Restoration Process
Step 1. Pre-inspection.
Step 2. Apply protective coverings.
Step 3. Sweep up all dust and debris.
Step 4. Apply safe cleaning solution to loosen up soils, grease and ground in dirt.
Step 5. Clean and brush around the corners and edges.
Step 6. Brush mechanical agitation.
Step 7. Hot water rinse and extract with a high-powered truck-mounted system using a spinner tool.
Step 8. Machine dry and buff the floor removing moisture, watermarks.
Step 9. Remove all protective coverings.
Step 10. Post inspection with our client.
Industrial and Commercial Tile and Grout Floor Cleaning and Restoration.

Tiled floors can look tied and dull from everyday wear and tear. As the grout has tiny holes in the cement so dirt, oils and bacteria find a home and the white grout becomes grey with time. When a floor is mopped the dirt in the water can be left in the grout, if not rinsed properly, and thus builds up and adds to the problem.
The Solution
We are able to restore white grout lines and clean the floor using our special cleaning solutions. We scrub the tiles and grout with a brush on a rotary machine or on our contra rotating brush machine which is able to get the solution right into the grout.
We then connect a spinning rotary brush which uses high pressure hot water to remove the soil particles, kill the bacteria and restore the tiled floor. All the water is safely recovered back into the tank, leaving the floor clean and virtually dry. In many cases that it sufficient to restore the clean grout lines again on the floor.
Tile and Grout Cleaning Before & After
Test Area and Demonstration.
If you have a tiled floor that is a natural stone in Birmingham like Travertine, Limestone, Slate, Marble, Granite, Porcelain, Terracotta, Flagstone or Minton Victorian flooring that has had a topical or impregnating sealer applied to the floor. Tiles which also have deep scratches, chipped or acid etching, you may need to seek the services of an expert that deals with full natural stone floor restoration in polishing and grinding. If you are unsure, please feel free to give us a call. However, if we can clean a test area then you will see just how good our cleaning can be.
Tile-grout-cleaning
Important Notice: If you have any cracked loose tiles and grouting from your flooring, we would not be able to clean your tile and grout flooring as the cleaning procedure might create even more damage to the floor. This also includes if there is poor grouting and tiling from when the tiled flooring was installed.
Floor Types.
Victorian Tiles or Minton Floors
Many of these floors are 100 years old and these tiles are porous and absorb dirt and old coatings of wax.
Again we can clean and polish these floors using a rotary brush and special cleaning agents and powders to bring the beautiful colour of tiles on these floors back to life. We do not replace tiles as this is then becomes a restoration project, but many clients want the floors cleaned and resealed to add value to their properties especially if it is a period home.
We reseal these floors by using an impregnating sealer which is absorbed into the tiles so bringing out the lustre and character of these old floors.
Ceramic and Porcelain Tiles
In many homes this is the most common feature of any floor tiles. They are durable and hard wearing but the grout between the tiles is very porous and thus will attract oils, grease and dirt so they become stained.
We use a proprietary cleaner to remove the grease and dirt with a heavy duty rotary brush which gets into all the small crevices in the grout and tiles. Then we use a high pressure spinner to our van mounted cleaning machine to rinse off with very hot water at high pressure to remove the last traces of engrained dirt, leaving your floor bright and clean.
Quarry Tiles
These again are usually very old tiles which can be red cream or black. They again absorb the dirt and grease into the tiles and also the grout. We again use or high pressure spinning cleaner to clean off the dirt and can put an impregnating sealer on to the tiles, adding back the colour and protection to the floor.
Linoleum / Marmoleum
This is a natural material comprising of: linseed oil, Rosin, Wood Flour, Limestone and a backing substance sometimes jute and sometimes polypropylene on tiles. Hard surface cleaners can slowly break down the floor as the degreasing effect removes the linseed and rosin from the floor and because the porosity is increased thus so is the soiling rate.
A neutral floor cleaner should always be used for maintenance (not washing up liquid)
Tile and Grout Cleaning FAQs