Industrial High Powered Truck Mounted Cleaning System
Our Industrial High-powered Truck-mounted carpet and upholstery cleaning system is fully self-sufficient so does not require any electrical power source. It runs on LPG and heats the water and cleaning solution to 240 degrees Fahrenheit, (so it leaves the truckmount at over boiling point). So when we get a call from a restaurant manager in Birmingham requiring either a highly soiled and greasy carpet or upholstery to be cleaned our Truck-mounted system and experienced technicians have no problem when faced with these sort of issues. We leave behind a superior cleaning result and most fibres and fabrics are dry in less than 2 hours.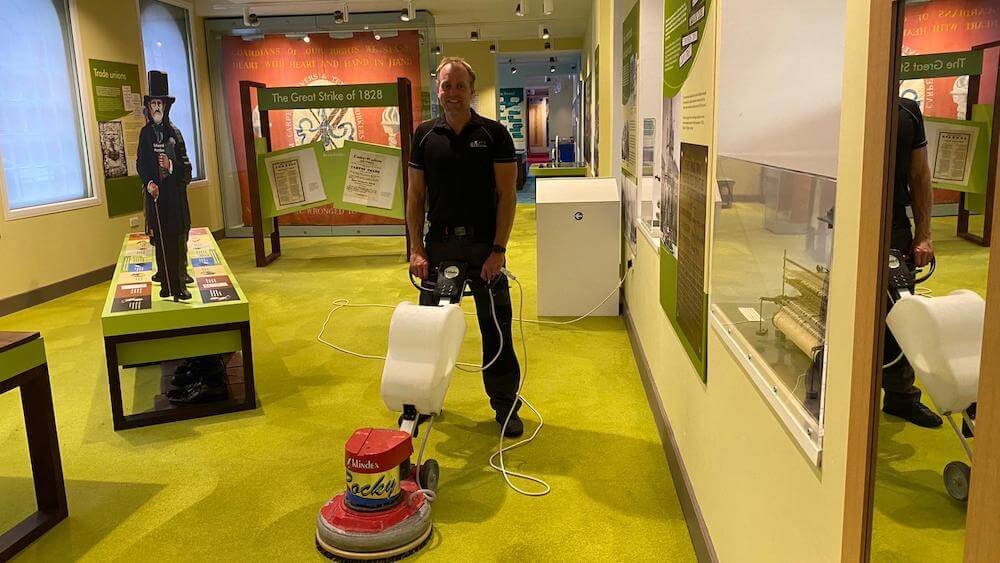 Low Moisture Cleaning System
Our low moisture cleaning system is unique for large office carpet cleaning in Birmingham, we can have a team of 3 or more cleaning technicians all working at the same time covering very large areas, thus leaving the carpets clean and dry within 45 minutes so allowing your business and office staff to carry on with their working day, so it has no impact at all on your business. They are quiet too so will cause the minimum of disruption.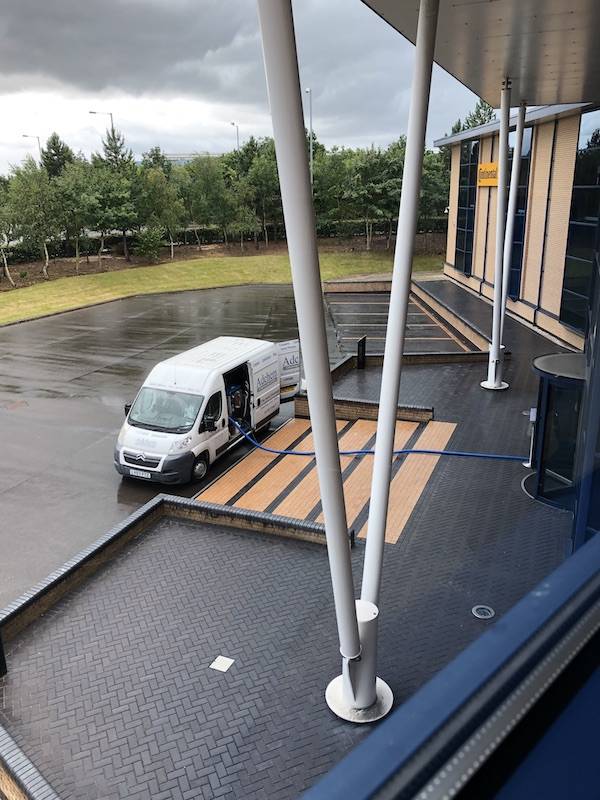 Our Quality of Service and Working Flexibility
We have been carrying out commercial carpet and upholstery cleaning for Birmingham businesses for years, and because we give 100% to all our commercial customers many have become repeat clients and use us every six to twelve months, for maintenance cleans or full cleans.
And because Adchem is an independently family run business in Birmingham we know how important it is with the cost of running a business, and to save your business money. Thus are always flexible with our clients and can carry out the work around your business hours whichever suits you best.
Types of Commercial Premises We Offer our Services
If you are a company owner or a business manager and would be interested in getting your carpet and upholstery cleaned in Birmingham, we offer our services to Offices, Shops, Health Centres, Doctors Surgeries, Children's Nurseries, Nursing Homes, Hotels, Restaurants, Pubs, Nightclubs, Bingo Halls, Schools and Local Authorities, Boats and Narrow Boats as some of the examples of clients of who have used us.
We can offer your business an outstanding quality service and an honest competitive on site survey, quotation and free cleaning demonstration.
Hot Water Extraction.
Truck-mounted carpet cleaning involves the use of a specialized cleaning system mounted in a truck or van. The cleaning system consists of a powerful vacuum, high-pressure water pump, and a heating unit that can heat water to high temperatures.
The cleaning process usually begins with a hot pre-treatment solution being applied to the carpet to help break down any dirt or stains. Then, the truck-mounted system sprays hot water and a cleaning solution onto the carpet while simultaneously vacuuming it up, along with any dirt or debris.
The high-powered vacuum system in the truck-mounted unit allows for deeper cleaning and faster drying times compared to portable carpet cleaning machines. In addition, the truck-mounted system can hold much larger amounts of water and cleaning solution, allowing for more efficient and thorough cleaning of larger areas.
Overall, truck-mounted carpet cleaning is a popular choice for commercial and residential carpet cleaning due to its effectiveness, efficiency, and thoroughness in removing dirt, stains, and allergens from carpets.
There are several benefits to having your carpets cleaned by a truck-mounted carpet cleaning system, including:
Deep Cleaning: Truck-mounted carpet cleaning systems have more powerful cleaning capabilities than portable machines. They can provide a deeper clean, removing dirt, dust, and allergens from the carpet fibres more effectively. This helps to improve indoor air quality and reduce the risk of health issues associated with allergens.
Faster Drying Time: Truck-mounted carpet cleaning systems use high-powered vacuums that extract most of the water from the carpet, which reduces the drying time significantly. This means you can use your carpets much sooner after cleaning, reducing the risk of mould and mildew growth.
Efficiency: Truck-mounted carpet cleaning systems are more efficient than portable machines, meaning they can clean larger areas in less time. This can be particularly beneficial for commercial settings or larger residential homes.
Eco-Friendly: Many truck-mounted carpet cleaning systems use environmentally friendly cleaning solutions and techniques. This means that not only are they effective at cleaning your carpets, but they are also better for the environment.
Longer Lasting Carpets: Regular cleaning with a truck-mounted carpet cleaning system can extend the life of your carpets, keeping them looking newer for longer. This means you can save money in the long run by avoiding the need for expensive carpet replacement.
Removal of the soil: All the dirt and allergens are removed into the waste tank on the van for safe disposal off-site.
Less Carbon Monoxide Emissions: We use liquid petroleum gas LPG to power our engine. This helps to ensure that we are trying to lower carbon monoxide emissions than those powered by other fossil fuels thus reducing the environmental impact of our carpet cleaning.
Encapsulation Cleaning
Encapsulation carpet cleaning is a modern carpet cleaning method that uses advanced cleaning technology and specialized cleaning products to clean carpets effectively. In this method, a special cleaning solution is sprayed onto the carpet, which penetrates deep into the fibres and breaks down dirt, dust, and other contaminants.
The cleaning solution used in encapsulation carpet cleaning contains crystallizing polymers that surround and encapsulate dirt particles. These polymers then dry to form a hard, crystalline shell around the dirt, which can be easily vacuumed away.
During the cleaning process, a rotary machine equipped with a special brush is used to agitate the cleaning solution, ensuring that it reaches deep into the carpet fibres. The machine also helps to lift and remove any dirt or debris that has accumulated in the carpet.
One of the main benefits of encapsulation carpet cleaning is that it uses very little water, which means that carpets dry quickly after cleaning. This makes it an ideal option for commercial settings where there is high foot traffic and minimal downtime for cleaning.
Encapsulation carpet cleaning is also environmentally friendly, as it uses biodegradable cleaning products that are safe for people, pets, and the environment. It is a cost-effective carpet cleaning method, as it requires less labour and fewer resources than other cleaning methods, and it is an effective way to prolong the life of your carpets while keeping them looking clean and fresh.
There are several benefits to having your carpets cleaned by a encapsulation carpet cleaning system, including:
Less Water Consumption: Encapsulation uses less water. Typically, each gallon of water will clean about 300 to 400 square feet of carpet. This reduces the overall water required to clean carpet.
Lower Moisture in the building: Less water applied to the carpet using low moisture methods allows for faster drying. Faster drying equates to less chance of bacterial action occurring. In addition, the carpet is drier faster using encapsulation detergents with low moisture methods, so you have less disruption to the building being cleaned.
No Wastewater: Wastewater from carpet cleaning includes contaminants that were removed from the carpet as well as any chemicals that were introduced during the cleaning process. With encapsulation detergents and low moisture methods, the encapsulated soil is recovered through post-vacuuming and gets disposed of with the discarded vacuum bag, reducing the overall environmental impact.
No Carbon Monoxide Emissions: There are no carbon monoxide emissions being emitted to the atmosphere thus reducing the environmental impact of our carpet cleaning.
Safe Cleaning Agents: The chemicals we use in our encapsulation products are safer for the cleaning technician, the occupants of the building, and the environment.
Commercial Cleaning Before & After
The before and after picture's above show 1 of 96 dining chairs in a Birmingham restaurant. These dining chairs were 4 years old and had not been cleaned before. So when we cleaned all 96 chairs the restaurant owner was astonished with how clean they came up, and saved his business thousands of pounds as he was considering reupholstering them.
If you would like to find out more information, why not give us a call and arrange for a FREE on site survey and Quotation, and while we are there we can carry out a FREE Demonstration in a small area to show you the finished cleaning result. That way you can see clearly the results we can achieve. And You Will Be Amazed.